Sacramental Theology; Theology and the Arts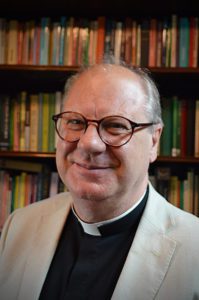 The Revd Canon Christopher Irvine
christopher.irvine@canterbury-cathedral.org
"Teaching at St Augustine's is always a satisfying exercise, as together we discover the riches of Christian tradition, extend our vision, and deepen our appreciation of what it means to be baptised and to be part of Christ's body, in and for the world."
Christopher Irvine is a former Principal of the College of the Resurrection, Mirfield, and is currently Canon Librarian and Director of Education at Canterbury Cathedral. He serves on the Church of England's Liturgical Commission, is Chair of the Alcuin Club, and a trustee of Art and Christianity Enquiry. He has a particular interest in the relationship between liturgy and art, and in sacred space.
Publications include: The Art of God (SPCK, 2005), The Use of Symbols in Worship (SPCK, 2007), The Cross and Creation in Christian art and liturgy (2013).
Christopher has also contributed to the Edinburgh Companion to the Bible and the Arts (EUP, 2014), The Study of Worship and Liturgy (SPCK); and (forthcoming) 'The place of art in Cathedrals', in Common Ground: Cathedrals in the 21st Century (Canterbury Press, 2017), and 'monastic architecture' in One in Christ: the dynamics of monasticism (SCM, 2017).