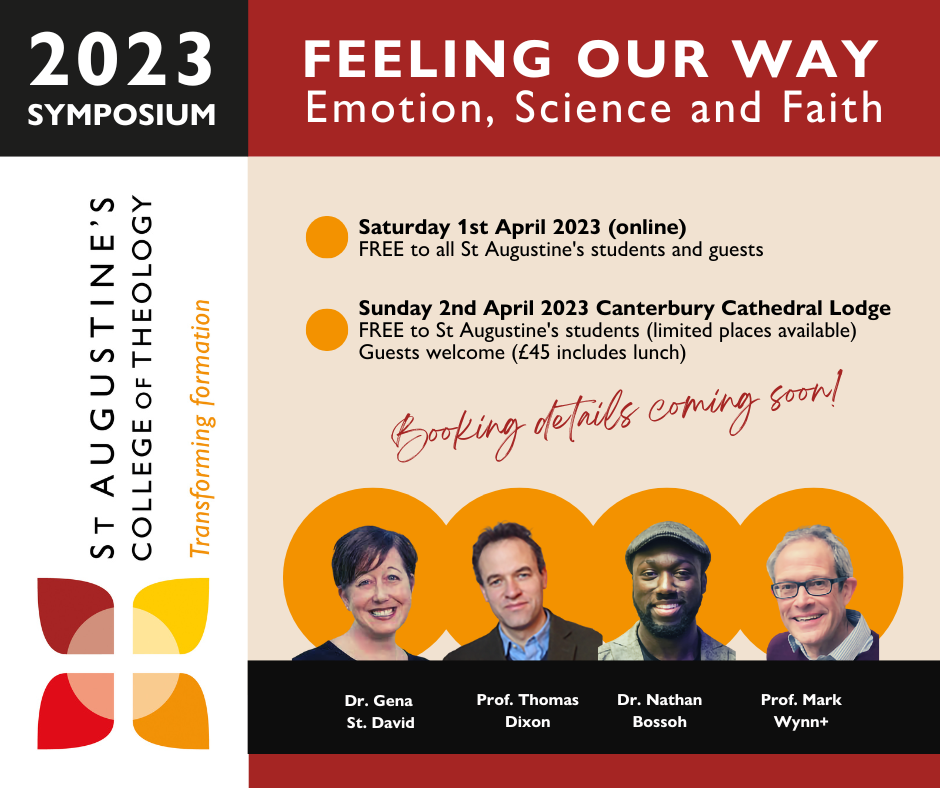 2023 Symposium – Feeling Our Way: Emotion, Science And Faith
Join us in April for our 2023 Symposium.
The event on the first weekend in April will feature online sessions on the Saturday and then a fantastic gathering at Canterbury Cathedral Lodge on the Sunday.
We have four great speakers joining us over the course of the weekend:
Dr Gena St. David – Associate Professor of Counselor Education and Director of the Louise Henderson Wessendorff Center for Christian Ministry and Vocation at Seminary of the Southwest in Austin
Professor Thomas Dixon – Professor of History at Queen Mary University of London, where he directs the Centre for the History of the Emotions
Dr Nathan Bossoh – African Collections Research Curator at the Science Museum. Nathan Bossoh is currently Research Curator of the African collections at the Science Museum London
Professor Mark Wynn – Nolloth Professor of the Philosophy of the Christian Religion at the University of Oxford.
Hourly Schedule
Saturday
13:00

-

13:15

Introduction and prayer

Rev Dr Alan Gregory
13:30

-

14:30

Talk and Q&A

Prof Mark Wynn
14:30

-

15:00

COFFEE BREAK
15:00

-

16:00

Talk & Q&A

Dr Gena St David
16:00

-

16:15

Closing remarks and prayer
Sunday
-

11:00

Arrivals coffee
11:00

-

11:30

Introduction and prayer

Rev Dr Alan Gregory
11:30

-

12:45

Talk and Q&A

Dr Nathan Bossoh
12:45

-

14:00

LUNCH
14:00

-

15:15

Talk and Q&A

Prof Thomas Dixon
15:15

-

15:45

COFFEE BREAK
16:00

-

17:15

Workshops

Prof Thomas Dixon