Christian Doctrine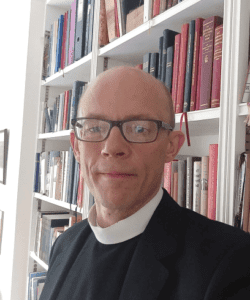 Revd Joshua Rey
joshua.rey@southwark.anglican.org
Joshua teaches Christian Doctrine to students training for ministry in the Church of England.
"In Parish Ministry I found that a solid grounding in Doctrine – parts of which might seem abstract when you first meet them – kept turning out to be incredibly relevant to real human situations.  Doctrine is to ministry like your skeleton is to your body – you can't see it, but you sure notice if it's not there…"
Before ordination, Joshua worked in the City until he became a Christian; then he was an aid worker and later a civil servant. He was ordained in 2012 and served as a curate in Streatham before taking up his current appointment as Chaplain to the Bishop of Southwark. He has a first degree in Philosophy and his training for ordination included a BA and MSt in Theology and Christian Doctrine, specialising in the thought of Karl Barth. He has contributed several conference papers and book chapters and is currently collaborating on an Oxford Very Short Introduction to War and Religion.