Explore the historical timeline of St Augustine's College of Theology
Take a look back at the history of St Augustine's, from its founding in 1959 as a hub for progressive ordination training, to its present-day mission to provide students, ordinands, and lay readers with a profound and formational theological education.
A new approach to formational ministry
In 1959, the Bishop of Southwark was struck with an unusual and (at the time) controversial idea.
He envisioned a new approach to ministerial formation where men (as it was then) could study for ordination without leaving behind their daily lives and working communities.
The bishop recognised that making potential ordinands live in colleges, in the style of their monastic spiritual predecessors, had become a barrier to some being called to ministry.
Non-residential ordination training
By establishing St Augustine's College of Theology (although the institute wasn't yet known under this name), the bishop enabled students to study theology and learn the practices of ministry whilst they remained happily embedded in their local contexts.
Known at the time as the Southwark Ordination Course (SOC), the institute provided hundreds of students with the means to undertake ordination training without leaving their secular lives behind.
At the time, this was a pretty radical idea – but it was one that would soon prove very popular with a new generation of ordinands.
Establishing a legacy of contextually rich formation
SOC helped its students make the vital connections between academic learning and ministry, theology and practice. Students developed a strong appreciation for knowledge, which was embedded in their ministerial education from the very beginning.
Non-residential colleges like SOC offered students a theological education that was distinctive but equally as thorough as their residential counterparts.
That legacy of the embedded, contextual formation is still integral to our approach as a college today.
Find out more about your formation as a St Augustine's student.
The Church first welcomes women to ordination
1994 was an important year for the Church of England.
On 12 March, 32 women were officially ordained at Bristol Cathedral, marking the first time in the Church's history that women could enter into ministry.
It was an equally transformative year for the college. In 1994, the Southwark Ordination Course was merged with the Canterbury School of Ministry. Together, they became the South East Institute of Theological Education (SEITE).
Welcome to the South East Institute of Theological Education (SEITE)
SEITE was created to serve the dioceses of South East England.
At the time, we facilitated the ministerial formation of men and women for licensed and ordained ministry.
As part of the merger, the college's staff and student community gained the use of a new campus, in the grounds of Canterbury Christ Church University.
Be part of the future of St Augustine's
Book your taster event and find out what it's like to be a St Augustine's student today. Attend one of our open-day style events at a time that suits your schedule.
Welcoming a new generation of theology students
20 years after the first woman was ordained, the Church of England once again recognised that a change was needed.
In 2014, the Church and theological institutes like SEITE threw open their doors even wider, welcoming students who wanted to study theology for its own sake (rather than to train for ordination).
These students would study for theology degrees known as 'Common Awards', a set of undergraduate and postgraduate qualifications accredited by the University of Durham.
SEITE also welcomed ordinands from other denominations and those training for licensed lay ministry. Working in partnership with the dioceses of Canterbury, Chichester and Rochester, SEITE also began providing continued education to curates after ordination.
Interested in studying theology?
From 'SEITE' to 'St Augustine's'
In 2015, after a rigorous internal review, it was decided that our name was in dire need of a makeover.
'SEITE' had served us well for 20 years, but it was time for a change. We needed something that was more memorable and distinctive – and, ideally, something that was not a lengthy acronym!
We chose to adopt the missionary saint of Southern England, St Augustine, who landed on the Isle of Thanet in 597 and later became the first Archbishop of Canterbury.
St Augustine's careful attention to what we would now refer to as missional respect for cultural contexts served as a very worthy inspiration – and still does today.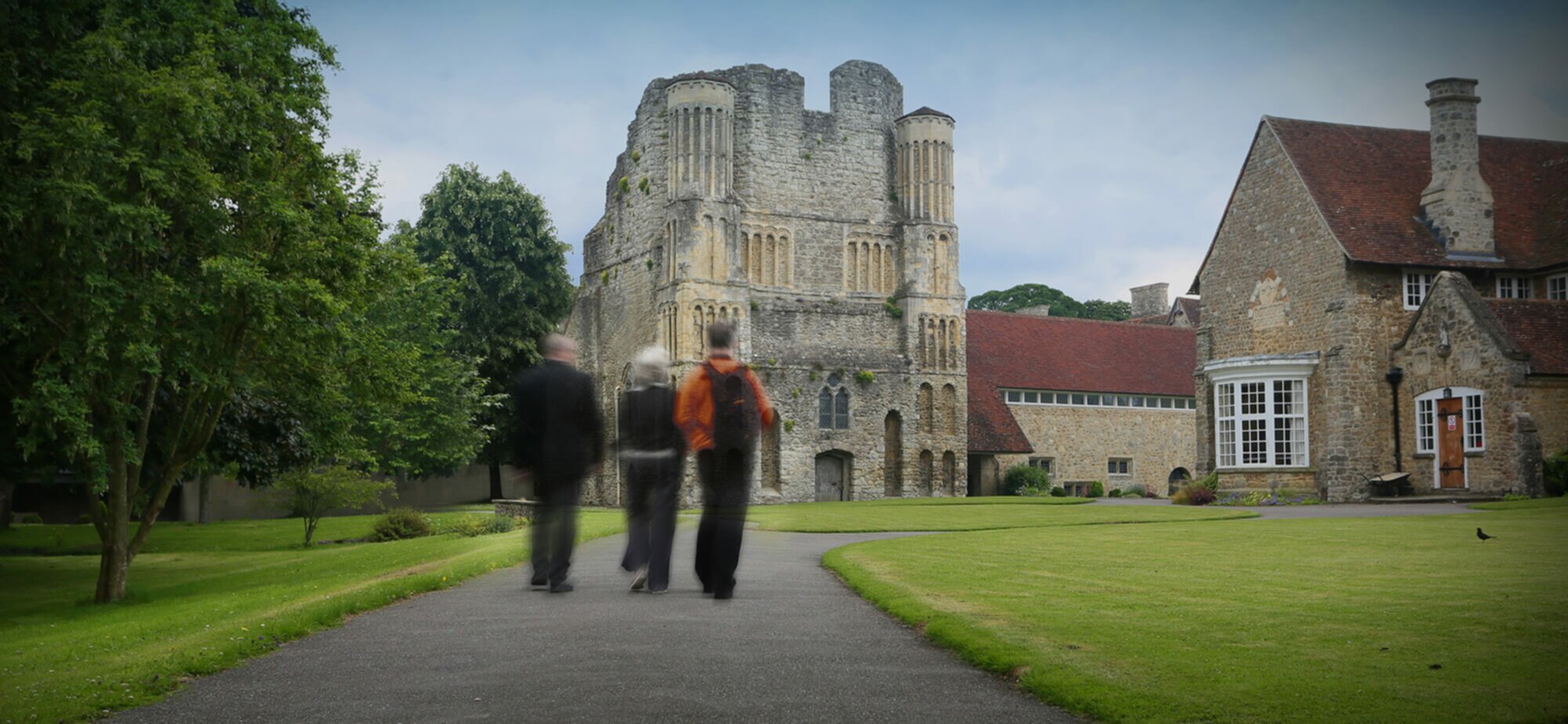 The search for a new teaching centre
Thanks, in part, to the exciting influx of theology students, the newly christened St Augustine's College of Theology was starting to find the Southwark campus a little … cramped.
In order to properly expand our course offerings, provide an adequate space to welcome guests, and give our growing student community a place to stretch their wings, we needed an additional teaching centre.
As a college, we'd also long been dreaming of a place where our community could worship as well as learn, and somewhere we could house our ever-expanding academic library.
A new home at Malling Abbey
In September 2016, St Augustine's said goodbye to our Canterbury campus and upped sticks to the leafy, sun-dappled and spiritually potent Malling Abbey in West Malling, Kent.
The staff and students of St Augustine's were given a warm welcome by the community of Anglican Benedictine nuns that called Malling Abbey home.
Since then, students and staff alike have enjoyed the abbey's atmospheric classrooms and study spaces, a generous college library, and spiritually charged worship in the abbey's 14th century Pilgrim Chapel.
Explore Malling Abbey and learn more about our learning centres.