Student support
Get help with study skills, access one-to-one pastoral support, and learn how to lead worship with confidence.
Your experience at St Augustine's is not just about stretching yourself through academic study or expanding your knowledge of the ways of God.
As part of your experience studying theology, you are invited to embrace and explore personal change, spiritual growth, and a reaffirmation of your faith. But you cannot embark upon this journey of formation without the help and support of those around you.
As a college, we provide you and your fellow students with a range of support measures throughout your time with us.
From help with study skills to coaching on how to lead worship, our student support team is on hand to help you make the most of your academic experience.
Suzy Gregory, who heads up our student support team, and students Tom and Beverley chat about the support in place for students with learning differences.
Pastoral and spiritual support
Undertaking a degree in theology or training for ordination can be a powerful, transformative experience. But when you are so absorbed in your own study, challenges and personal difficulties can hit even harder.
The St Augustine's staff, faculty and student support team are here for you. Whether you're questioning your faith, experiencing a spiritual challenge, or facing difficult personal circumstances, we are here to talk and offer support and help where needed.
When you become a St Augustine's student, you also join our community, and we will do all we can to shepherd and support you, even beyond graduation and ordination.
"Returning to formal education following a 30-year break was a scary prospect. However, I found a supportive environment at St Augustine's in which I was able to flourish and achieve more than I ever thought possible."
Sue Shortman
St Augustine's theology student studying part-time
Making learning accessible
Everyone should be able to access and benefit from theological study.
Whether you need help sharpening up your essay-writing skills or accessing support because of a learning difference, our team is on hand.
Developing study skills
Many of our students have concerns about the academic side of their studies. Students may be:
returning to higher education years or decades after graduating
engaging in university-level study for the first time, having left formal education early in life
undertaking a theology degree having previously studied a subject that required little to no essay writing.
In all of these cases, the student in question may need some help with developing their study skills. This could involve:
help with writing and structuring academic essays
learning how to access study materials, such as picking out the right text from the college libraries
coaching on how to engage in academic study in a way that suits the individual student
support in managing study outside the classroom, such as fulfilling assignments and working to deadlines.
Even experienced learners can benefit from our range of support services. Help can be accessed discreetly at any time and will be tailored to your unique needs.
Working with the Writing Tutor
As part of our student support services, St Augustine's provides you with the means to work with our specialist writing tutor, Suzy Gregory.
Suzy works with students on a one-to-one basis, coaching them on how to get their ideas on paper and write to an academic standard.
Together with Suzy, the student will explore and address their unique concerns and challenges, which may involve:
working with a specific learning difference
helping interpret questions or objectives
checking that an assignment is ready for submission
practising to improve existing skills
turning a draft into a finished piece
giving some guidelines for those who are out of practice.
Thanks to Suzy's specialist training and teaching experience, she is also able to assist students in identifying why they might struggle in certain areas, for example because of previously unidentified learning differences like dyslexia.
As a theology student who happens to be dyslexic, Tom was pleasantly surprised to learn that he could rely on the support of a writing tutor during his time at St Augustine's.
Supporting neurodivergent students and those with learning differences
If you have a learning difference or you are a student who is neurodivergent, you may experience more barriers to academic study than others.
In order to empower you to make the most of your study experience, St Augustine's provides you with a range of support, including:
one-to-one support from our Writing Tutor, Suzy Gregory
extensions on assignments (typically between two and four weeks)
the option to submit assignments via verbal assessment
flexibility to attend classes virtually (course specific).
Each student has their own unique requirements and access needs. Some students know exactly what kind of help they need, while others may be experiencing difficulties without knowing exactly why or how to ask for help.
Whatever your experience and however it is you learn, we will work with you to understand your needs and do our best to meet them.
"During my studies, Suzy noticed that there was some dissonance between the way I engaged verbally in class and the way I wrote. That insight helped me learn that I was dyslexic: not something you expect to find out in your early middle-age!
The team was amazing, and that support is one of the things that really stands out for me as I reflect on my time at St Augustine's."
Beverley
St Augustine's ordinand from the Rochester Diocese
Support in leading worship
For many of our students – especially those training for ordination or licensed lay ministry – being able to confidently lead and support worship is an important skill.
Whether you're doing so from behind the pulpit or as a member of the congregation, you can learn how to worship with inner strength and confidence with the following training opportunities.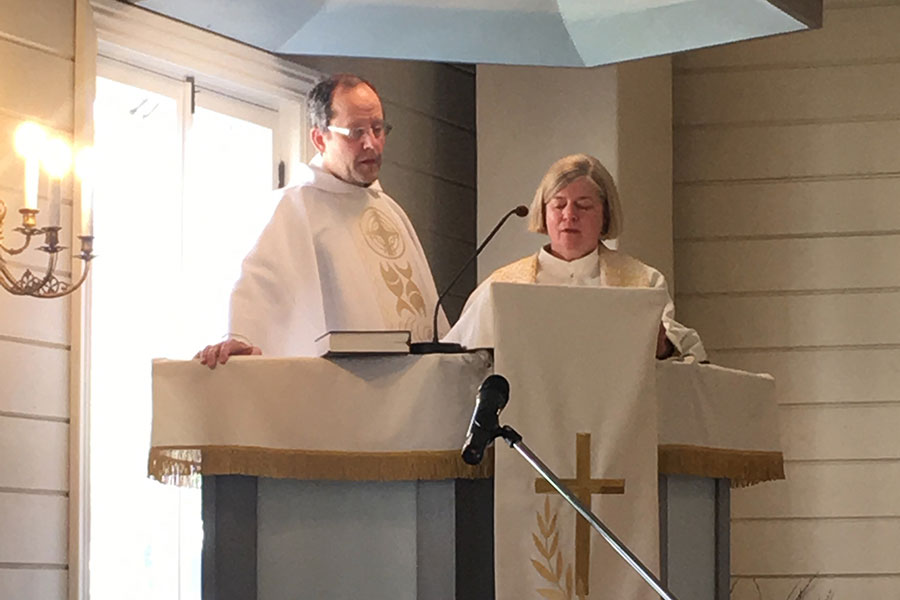 Voice coaching and training for public speaking
If the idea of speaking publicly in a leadership capacity fills you with dread, you may benefit from the coaching on offer at St Augustine's.
Led by our specialist singing tutor, Suzy Gregory, you will undertake coaching and training on how to:
speak clearly and engage an audience
project your voice effectively in different spaces
develop confidence in speaking to large groups
avoid slipping into an off-putting 'clerical voice'.
Through one-to-one training and bespoke coaching, you'll be given the tools and techniques needed to develop your own authentic approach to leading worship with confidence.
Singing training
You're certainly not required to sound like an angel when you're lifting your voice in song during a service.
However, as a minister or a leader in your church, it's likely that your congregation will be looking to you to take the lead when the music starts.
At St Augustine's, you have the opportunity to work with our specialist singing tutor, developing the confidence to lead worship through song and uplift your congregation.