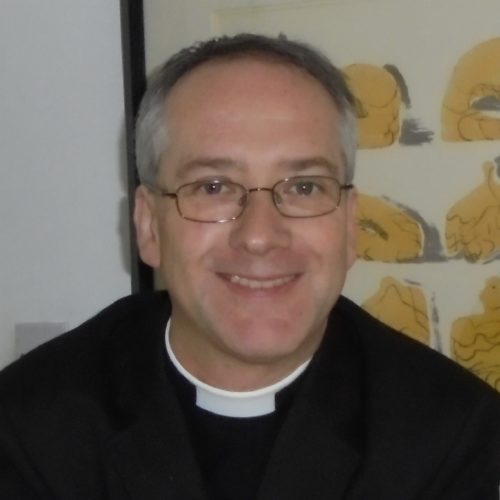 "Students at St Augustine's College are the happiest and most highly motivated I have ever taught. And there are few things more rewarding than helping them to discover how the best insights of modern scholarship can inform and enliven Bible study, preaching and current theological debate. Students find both scholarly depth and practical usefulness in their studies of the Gospels, Paul's Letters and the Book of Revelation."
Stephen enjoys a varied and energetic ministry among the young, diverse community at Kent University where he is Anglican Chaplain. As a parish priest he leads the ministry team in the nearby village of Blean.
Currently supporting Christian vocations among the student community at Kent University, Stephen also enjoyed several years' national involvement with the discernment of vocations, serving at Bishops' Advisory Panels across the country.
Stephen undertook postgraduate studies at both King's College, London and Oxford University (where he also read Theology as an undergraduate) in the areas of New Testament and Biblical Interpretation, sitting at the feet of a stunning generation of teachers and lecturers including N T Wright, J L Houlden and G N Stanton. For 16 years he taught degree modules on the Bible and Christianity, as well as Islam, in Kent's top-ranking Religious Studies department. He is a Fellow of the Higher Education Academy, having demonstrated nationally recognised standards of excellence in the delivery of degree-level teaching.
Stephen lives with his wife and young son on the edge of Canterbury. In his spare time he enjoys studying and writing about British landscape painting. In 2014 he was elected Fellow of the Society of Antiquaries (London) in recognition of his writing and research across the fields of the visual arts, the environment, poetry and theology.
'John Robinson and primitive Christian eschatology: contexts and comparisons then and now', Theology, 124(4), 2023, 266-270.
'The Disputed Letters of Paul and the Ethics of the Art Trade', Theology, 124(2), 2021, 101-107.
'The Changing Face of Christian Discipleship among Young Adults', Transforming Ministry (Central Readers' Council), 120 (4), Winter 2020, 18-19.
'Luke's Gospel and the Qur'an', Theology, 122 (5), 2019, 347-354.
'John Piper and the Romantic Legacies of John Ruskin, Samuel Palmer and John Sell Cotman': contributing essay to Hitting the Nail on the Head: the Complete Writings of John Piper, ISBN 978-0-995757301, ed. O Levinson (Song of the Wild Swan, Oxford 2017).
'Landscape': essay in the Oxford Dictionary of Christian Art and Architecture (revised edition), ISBN 978-80199680276 ed. Tom Devonshire Jones (OUP, November 2013). View online
'The Revd Dr Victor Kenna OBE, 1899-1978': essay for the exhibition catalogue John Piper and the Church, ISBN 978-0957145900, eds. P Jordan
Evans and J Cartwright (Friends of Dorchester Abbey/Bohun Gallery, Henley on Thames 2012). This publication was nominated for the 2013 William M B Berger Prize for British Art History.
'A Gift of Smiling Colour': introductory essay in the exhibition catalogue, John Piper in Kent and Sussex, ISBN 978-09567676-0-8 (Mascalls Gallery, Tunbridge Wells and Towner Gallery, Eastbourne 2011).
Book Reviews and Other Articles
Stephen is a frequent contributor of articles and reviews in Art and Christianity (ISSN 1746 6229) and has written several feature articles for the Church Times newspaper including 'Fellow Feeling for a Scarred Landscape' (on the poet Jack Clemo and the Painter Peter Lanyon), Church Times 7903, 5 September 2014.
Stephen regularly reviews publications for the international journal Theology, and The Reader magazine.
Lectures, talks and conference papers
Stephen is well known in Canterbury and Rochester Dioceses for his 'Islam for Anglicans' teaching days and courses, which he delivers with infectious enthusiasm for congregations and deaneries and – on a much larger scale – as Diocesan training events and at conferences.
Stephen has also featured as guest lecturer at various museum and gallery shows in the South East region, most recently at Tunbridge Wells Museum and Art Gallery ('The People of the English Landscape, c1800'; and 'English Watercolours').