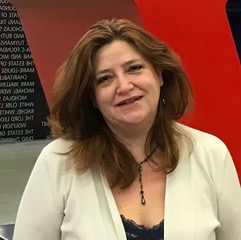 Tutor in Mission and Pioneer Ministry
"Having been a practitioner in mission engaging with those who might describe themselves as spiritual but not religious for 17 years, it's incredibly energising to introduce students at St Augustine's to theory about mission and culture, as well as resources that can enable them to think more creatively about how to reach out to those currently beyond the boundaries of regular church congregations."
Andrea is the first Licensed Lay Pioneer in Southwark Diocese and is the founder and leader of Fresh Expression of Church, Sacred Space Kingston. She was a Mission Partner with Church Mission Society for 12 years and, in that capacity, completed both a Foundation Degree, with Oxford Brookes University, and an MA, accredited by Durham University, in Theology, Ministry and Mission. Most recently she has set up a social enterprise, Spiritual Practices Pilgrimages, to provide led pilgrimages for spiritual seekers to sacred sites in the British Isles and is also a member of the Transforming Shame Network and, the online, In:SpiritSpace team.
Book chapters
Chapter on the gospel and shame in The Pioneer Gift, edited by Jonny Baker and Cathy Ross.
'Church as God's Conversation Partner with the World' in Missional Conversations, edited by Cathy Ross and Colin Smith.
'Movements that Change the World' in Pioneer Practice, edited by Jonny Baker.
Articles
Article on healing from shame in on Missiology (July 2021).
'Mission as an Adventure of the Imagination', in Search: Church of Ireland Journal (2023).
Andrea has also edited a number of editions of the missional journal Anvil.