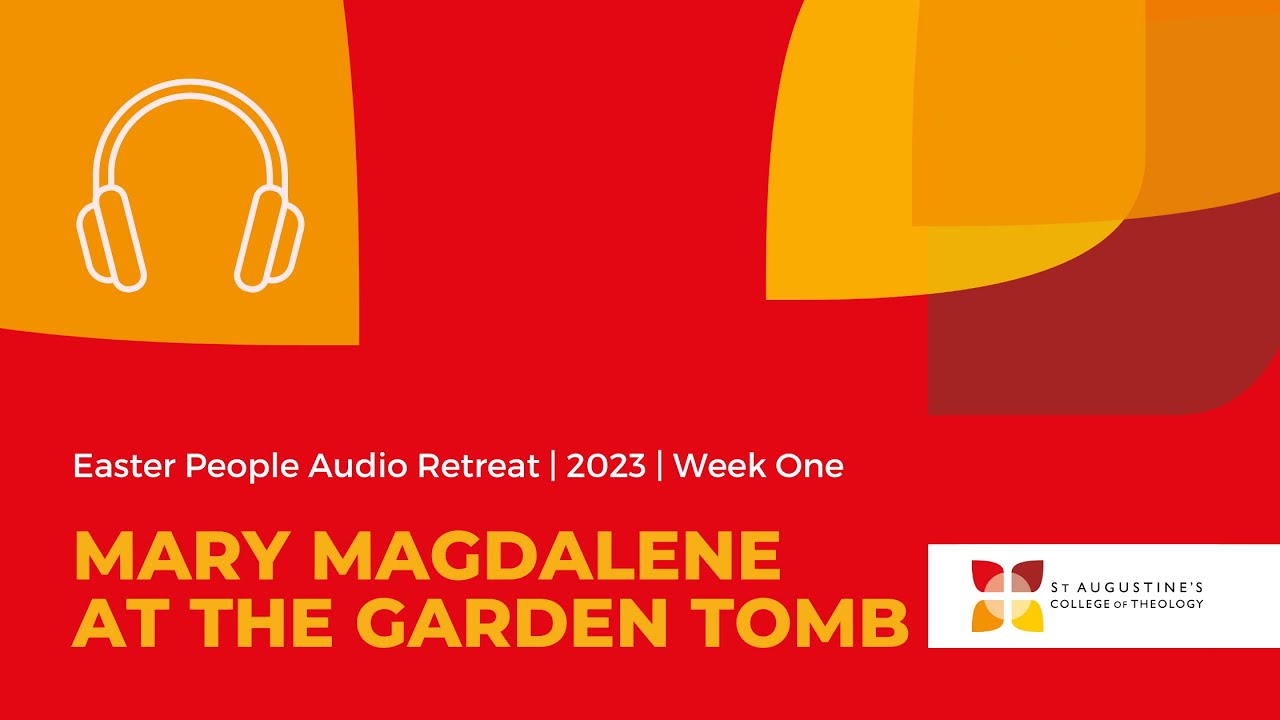 Join us for a new audio retreat series as we reflect on the people of Easter and their stories – beginning with the moment Mary Magdalene hears Jesus call her name as she sits beside his tomb.
To celebrate the season of Easter, St Augustine's College of Theology is releasing a four-part audio retreat themed around the people of the Easter of story.
Written and produced by our very own Tutor in Christian Spirituality, Chris Chapman, this special series begins with a meditation on joy and rebirth – rather fitting for Easter and springtime.
Mary Magdalene hears Jesus call her name at the garden tomb
Led by Chris, listeners are invited to reflect on the experience of Mary Magdalene and the transformative joy she feels upon realising that Jesus has returned to life.
Mary, lost and confused, is sitting alone in the garden tomb when the unimaginable happens – she hears Jesus call her by name. In one moment, all the pain she carries is transcended by Jesus' presence and her own naming.
As Chris reflects during this uplifting and soulful audio retreat, Mary's experience is also our own; especially during Easter.
"Easter is not dependent on a continual feeling of joy, or a certainty of faith. It is the gift of the presence of the risen one that we might glimpse in a moment; one that will never be taken from us. We can't cling on to the joy of a moment, but we can greet it gladly when it comes and go on rejoicing in its resonance long after its passing."
Easter is, after all, not the end of all difficulty or the beginning of a never-ending peace. Easter is the gentle calling of one's own name, heard in a moment, that can become a gift to savour forever.
How to listen to this audio retreat episode
To listen to this episode of the Easter People audio retreat, follow this link to the YouTube version of the episode or listen directly using the YouTube player below.
There is no right or wrong way to listen to this audio retreat. You can listen to it as many times as you like, by yourself or with others.
If you'd like to read along with this audio retreat, you can download the transcript for this episode. You can also use the subtitles/closed captions on the YouTube video.
Resources for prayer and reflection
To accompany you on your audio journey, you can download helpful written resources, designed to help you along in your reflection and prayer.
Much like its corresponding audio, this week's retreat resource sheet is all about joy; from how we experience it, to how we can better savour it.
There's a strong theme of springtime, with a focused meditation on finding moments of quiet joy. You'll also find a verse from the Song of Songs, lines from the Gospel of John that recount Mary's meeting with Jesus outside the tomb, and an excerpt from George Herbert's poem, 'The Flower'.
Although it's not necessary for you to use the downloadable resources to enjoy this audio retreat, it can add a greater dimension to your reflection and prayer.
[/fusion_text]
New 'Easter People' audio retreats throughout April and May
This is the first episode in a four-part series on the People of Easter. Next week, we'll be sharing an audio retreat centred on a conversation between two friends on the road to Emmaus [Luke 24.13-35].
To ensure you receive the next episode straight to your inbox, sign up to our newsletter.
If you'd like to listen to more audio retreats, you can explore some of our previous series and take a prayerful audio journey with Chris Chapman and a number of special guests.
[/fusion_builder_column][/fusion_builder_row][/fusion_builder_container]