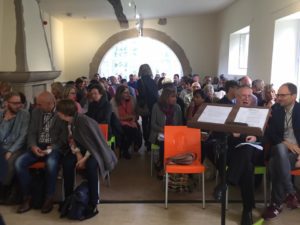 The summer seems to have passed away an age ago. On the 16th September, we held our Induction Day for sixty-four new students, our highest intake ever! Saju Muthalai and Sue Jeffs lead us in a very fine reflection on diversity and the unconscious biases that shape our relationships with others. Necessary to finding our way around the world, since otherwise we'd treat every encounter as if it was the first one in our lives, such biases also lie at the root of misunderstanding, unintentional hurtfulness, confusion, and conflict, as well as the cruelties of prejudice and bigotry. Saju and Sue helped us talk about our own experiences and reflect on our self-awareness and did so with the kind of  delicacy and grace that allows us to examine areas of sensitivity. They also began their presentation with a video of two Italians and a donkey that, when I taught in Texas, would have got me fired! Congratulations to good old British down-to-earthness (now there's a cluster of not-so-unconscious biases for you!). After some biblical and theological reflections on diversity and bias, we ended our day with some 'clinics' on the practical business of joining this community: Moodle, writing support, and library access.
Classes have now begun, both in the familiar evening format and in our new style Friday teaching days. We're settling into the rhythm of these days, especially pleased that over thirty students, including members of the Sisters community and local clergy, have taken up the chance to study New Testament Greek and Hebrew. Last Friday, the team from the Ministry Division of the CofE visited us, taking a tour of the Abbey, sitting in on classes, and eating cake superbly made by Dulce. No inspection involved, this time: we were simply Ministry Division's choice for their annual day out (I think they may live rather sheltered lives) and proud to be so.
For six weeks, beginning on the 12th October, Ronni Lamont and guests, including Rebecca Nye, will teach "'Trailing Clouds of Glory', Nurturing the Spirituality of Children." A few places are still available for this course – open to all – but they are going fast, so click here for further information.
Welcome to St Augustine's 2017-2018!
Save
Save