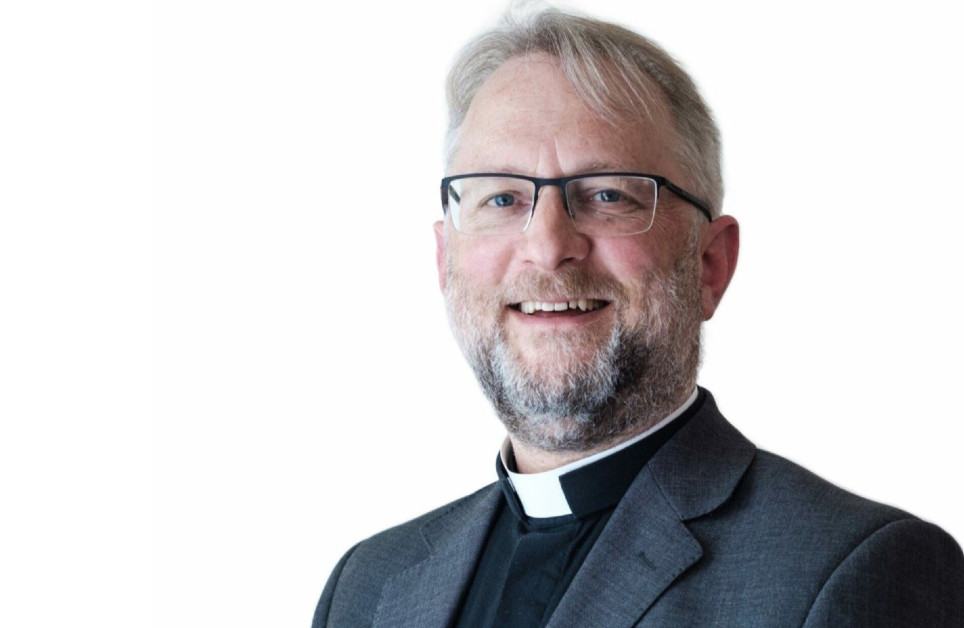 A message to students, staff and the St Augustine's community
From departing Chair of Trustees, Rev Jonathan Croucher
To the students, staff and supporters of St Augustine's College of Theology,
It has been a delight to serve as Chair of Trustees at St Augustine's College of Theology. I have had the privilege of fulfilling this role since 2018, before which I was a member of the College's Board of Trustees for over four years.
I am stepping down from the Board of Trustees this November, just after I celebrate 10 years as a trustee and five years as Chair. Alongside handing over my responsibilities as Chair, I'll also be moving from my parish in the Southwark diocese to a new role as Archdeacon of Chelmsford.
Looking back on the last ten years
It's been a full and fantastic ten years since I was first asked to join the Council and Board of Management back in 2013. At that time, Jeremy Worthen (then the Principal of the College) brought me on to lend legal and commercial experience to the Board.
One of my first responsibilities was the recruitment of a new Principal, which is when Alan Gregory stepped into the role. I have enjoyed claiming credit (and, occasionally taken, the blame!) for Alan's appointment since then.
It has been wonderful to see the transformation of the life of the College over the past ten years. Most notably, when we transitioned from our base at Canterbury Christ Church University to find such a wonderful home within the community at West Malling. During that time, we also rebranded as St Augustine's and creating new governance arrangements.
These changes have enabled us to respond creatively and innovatively to the significant shifts in the landscape of theological education in the Church of England. I feel it's allowed us to respond more effectively to the needs and aspirations of our core dioceses.
Nurturing tomorrow's ministers and facilitating theological learning
When I trained for ordination at the South East Institute for Theological Education (SEITE) in the early 2000s, over half of our students came from Southwark. They joining Rochester and Canterbury ordinands with a small number of interlopers from elsewhere (including the Methodist church).
These days, we also have a regular stream of students from Chichester, London, Chelmsford and occasionally farther afield. We are committed to providing training for lay ministry on an equal footing to those training for ordination. Furthermore, the development of our programme for independent students has been a key element of our service to our dioceses, as well as providing a degree of financial security in challenging economic times.
Whilst our core business is theological education and ministerial formation, as trustees, we frequently remind ourselves that we are Kingdom people. We are focussed on building the Kingdom of God through our character as a community, equipping disciples for service of the gospel.
It is a joy in my own ministry in Gipsy Hill to have worked with students on mission projects. I've also been blessed to minister alongside clergy and lay ministers who have been shaped and equipped by the ministry of the College. It is a particular delight for me now to be taking up a new role in a diocese led by a SEITE alumna, Bishop Guli Francis-Dehqani.
Gratitude for St Augustine's colleagues
Alongside Alan and Suzy Gregory, we have been blessed by a high degree of stability in our staff team – with particular thanks to Guido de Graaff and Simon Stocks for their long and steadfast contribution to the College.
I'd also like to thank Becky Young and her generous and kind-hearted leadership of our operations, supported by Dulce Peddar and Alison Minton. They have helped us maintain the ethos and character of the College community in a period of great change.
Jenny Corcoran and Harriet Johnson have brought new gifts to our core team and we are, of course, also blessed by a wide team of associate tutors, lecturers, librarians and administrative staff.
Appointing Rt Rev Dr Martin Gainsborough as the new Chair
If the appointment of Alan as Principal was my first significant contribution as a Trustee, I am very pleased that one of my last is the invitation to the Bishop of Kingston, Rt Rev Dr Martin Gainsborough, to succeed me as Chair of Trustees.
Martin has considerable experience in academia, notably as Professor of Development Politics at Bristol University. Alongside Alan, he will be well placed to lead the College into this next season as we continue to seek to equip our churches and dioceses for mission and ministry. I am delighted he has agreed to take on this role with conviction and enthusiasm.
Be assured of my continued prayers for you all and for the ongoing life of our community at St Augustine's.
Rev Jonathan Croucher