We are delighted to announce that the Revd. Harriet Johnson is our newly appointed Chaplain at St Augustine's, who joins us on 1 September 2020. She is also one of our alumni, having graduated in 2017 and completed her curacy in 2020. We asked her to introduce herself and talk about her hopes for her new role.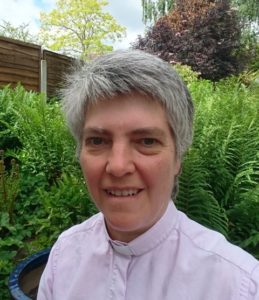 A bit about me
I spent over 20 years working for the Foreign Office, in a mixture of jobs in London and overseas, including 4 years in Beijing and 6 in the Falkland Islands – you couldn't find much more of a contrast! It was a really interesting time.
As a child I regularly attended a Methodist chapel Sunday School, and went on to attend occasional Church of England services (especially sung Evensong) as an adult, but was never baptised. And one morning I woke up knowing that my faith had become very real to me, and it was time. That was after my return from China, and shortly after a visit to the Turin Shroud
When I returned from the Falkand Islands, I had some time out, and started to think about whether the Foreign Office was still the right place for me. A number of people suggested I had a vocation, so I ended up on a discernment weekend. But at that point, the feeling came out that ministry might be something God was calling me to, but not yet. So I returned to the Foreign Office to bring that part of my life to a close. After a couple of years I took an opportunity for voluntary redundancy which came up, and knew then the time was right to test my vocation to ministry. My rector sent me to see the DDO who suggested I study a module at St Augustine's (still SEITE at the time). I really enjoyed the academic study, so then signed on as a full-time independent student whilst going through discernment. During my first year of study, the BAP recommended me for training, so for my second year I swapped to ordination training.
My curacy ended at the beginning of August 2020, but of course the last few months were badly affected by Covid-19. Living several miles away from my parish, there were several months when I couldn't go there, so I was calling and emailing the parishioners. Lately, I've been able to visit, but still have to stand on doorsteps to protect everyone. Leaving has felt like the end of a long goodbye, and I hope very much to be able to return for a farewell service one day – we have a very tiny church, so it's just not possible at the moment.
What's next for you?
Looking forward, I've just been appointed part-time Chaplain at St Augustine's for the new academic year, so I'll be licensed and take up my post on 1 September. I'll be self-supporting (or, as I like to say, spouse-supported!)
It's the first time the College has had their own Chaplain, so we don't quite know what my role is going to look like yet, and of course we don't yet know how Covid will impact on what the College does from September.
In normal circumstances, I'd be there at the residential weekends, and available for students to talk to in person, so we'll be looking at how that is going to work as we go on.
What I do know is that I'll be someone for students (and staff) to talk to who isn't part of their assessment process and is independent of their course. It means that they can talk to me, in confidence, about anything that's troubling them – whether they are struggling with study or personal issues, having doubts about their calling or are worried about anything at all. It's important for our students to know that their concerns can be shared, but won't reach anyone official until they are ready to tell them themselves. Of course there are areas, such as safeguarding, where I am obliged to report certain issues. But wherever possible I would do that with the knowledge of the person concerned, and ideally help them to take the necessary steps themselves.
My own experience as a former student here suggests that this is really important. As it's a non-residential programme, you continue to worship in your own church, or your placement church, but even the vicar there is part of your assessment process, as they have to report on your progress. So that completely confidential support can be vital.
One of the advantages of my having studied here is that I know and understand how things work here. So although every student experiences it differently, they won't need to explain everything to me from scratch in the way that they might to someone less familiar with the College.
How did St Augustine's prepare you for your curacy and beyond?
The diversity of worship styles and opportunities to meet people from different church traditions and grow with them was incredibly important. I used my church placement to go and spend time at a very different type of church from where I would normally worship, and that experience gave me so many insights into what I value and why I feel more at home in a certain tradition.
While I was studying, I was chatting to a friend who had been, some years before to a residential college. He told me that the thing that struck him about the curates coming from St Augustine's was how much more collaborative they generally were than curates coming from residential colleges. In part, that's perhaps because our students tend to be older and have worked in secular jobs where they've had to learn these skills, but it's also about the variety of experience.
Spending two or three years with people from different backgrounds and traditions means that you start to see past the surface (or the name that we give this tradition or that one) and see the depth of why these traditions are different. It's easier to work with someone when you see their integrity and where they are coming from. I think you wouldn't necessarily get that in many other places. Because we're a small college, you're all thrown together, which gives you that opportunity.
What do you think is exciting for the future?
Having studied as an independent student before joining the ordination pathway, I'm delighted to see the way the College has developed the independent programme, and the new Theology for Disciples course is hugely exciting.
In a way, the thing that attracted me to Christianity (and the Church of England) was that there aren't definite answers. I knew I would never find a 'cul-de-sac' answer and have nowhere else to go. Every time I've learnt something it just opens up so many intriguing pathways to walk down and discover something new about God. St Augustine's has really deepened that sense, and helped me learn more and see how much more there is to know – both as an independent student and an ordinand. One of the things I've valued about becoming a Christian is starting that walk, and I am really excited about joining our students on their journeys.