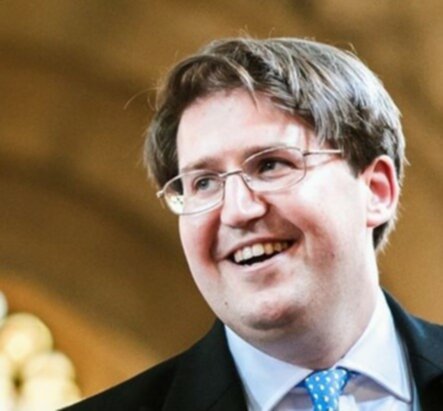 Ben is an ordinand studying part-time at St Augustine's. Ben plans to minister alongside his secular work, so being at a college that encouraged his goals and offered flexible part-time study was crucial for his formation.
How long has faith been an important part of your life?
My religious background is quite varied. My wife's family are Roman Catholic and Buddhist, and I was brought up Jewish.
I was baptised in my late teens, and quite quickly started to wonder about ordination, but I didn't feel I had much to offer at that age!
At what point did you start to consider training for ordained ministry?
In 2015 I stood for Parliament, and lost – as I knew I would. While I hated having to make it all about myself during that experience – the social media, the press notices – I loved engaging with all parts of the community – especially those who, historically, hadn't had much voice.
I remember talking to a vicar friend who said, "You're realising what a lot of us have known for a while – you're meant to be a priest."
Other people kept encouraging me too, but I was waiting to hear it from God! Then a good friend who is a retired clergyman looked me in the eye and told me that sometimes God talks to us through other people. That's when I contacted the diocese.
Why did you choose to study at St Augustine's?
As I went through the formal process of discernment, it became clear to me that I didn't see my priestly calling as a new 'career' or something that meant turning my back on my secular life.
I was looking for a college where I could train alongside working full-time. I also planned to carry on working in the secular world once I was ordained. That's still quite rare in the Church of England.
I visited several other colleges of theology – they were wonderful places but didn't feel quite right for me. Then I met Alan Gregory, the Principal at St Augustine's, and I realised he would help make this work for me.
Why is having the option to minister and work at the same time so important?
There are increasing numbers of us who feel that ministry can work alongside employment. There are strong theological models and rationales for that – especially here, at St Augustine's.
In my secular job I work for Serco, running their in-house think tank and philanthropic arm. During the coronavirus pandemic, we were involved in setting up a support fund for small charities and community groups. It was an inspiring experience.
I'm trusting that God knows how I will combine a secular career with a ministerial role on the future – because I don't yet. What I do understand is that my calling is twofold, with the workplace itself being part of the ministry.
It means ministry isn't something we 'do' to people – we walk with them.
How has flexible part-time study allowed you to pursue this goal?
Being able to study part-time at a non-residential college had been hugely important to me.
At St Augustine's, we study the same modules as those at residential colleges, with exceptional staff and plenty of academic rigour. But to me, being able to combine my secular work and life with formation is incredibly important.
After all, if ministry is about people, why wouldn't we want to be alongside them at work, where so many people spend so much of their time?