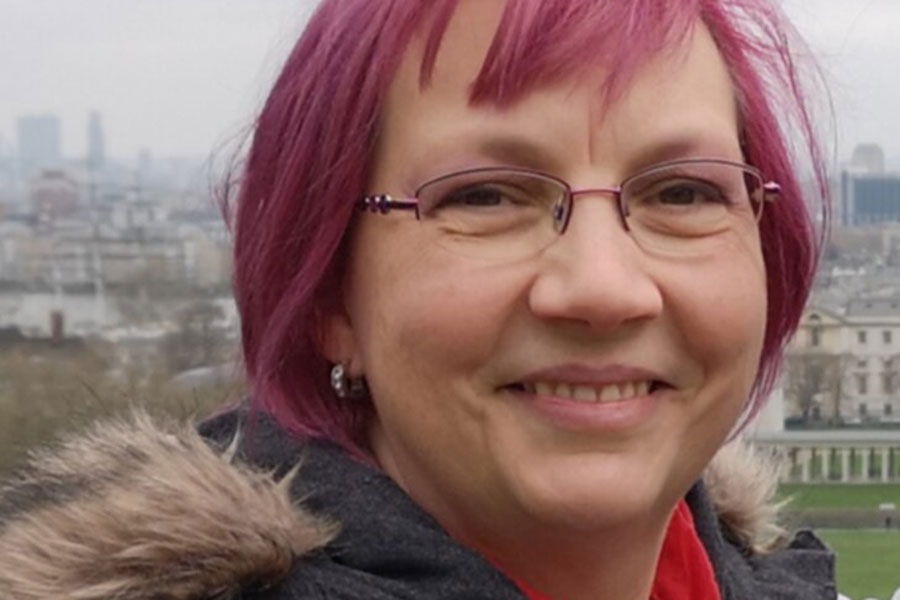 Katrina is an ordinand studying full-time at our West Malling campus. Katrina's time at the college has helped solidify her faith and her certainty about her path. She intends to devote herself to a small local parish where she can make a big difference.
What was your experience of being called to ministry?
When a small voice started calling to me about 20 years ago, I asked a vicar friend whether that voice would ever go away. The answer was "not any time soon."
Due to family circumstances, it wasn't the right time, so I took a job in social housing and then worked at Guildford Cathedral.
In 2017, I was stewarding for ordination services. Usually, I'm at the back welcoming people, but this time I was at the front, and everything was happening right in front of me. The small voice was suddenly shouting incredibly loudly: "THIS is what I've been talking to you about."
My husband was incredibly supportive about my decision to listen to the voice. I spoke to a colleague at the cathedral who turned out to be a lecturer at St Augustine's: the first step that led me towards being accepted as an ordinand.
Why did you choose to undertake ordination training at St Augustine's College of Theology?
I love having the opportunity of two centres – the peace and tranquillity of West Malling Abbey, deep in the Kent countryside, combined with Trinity House in Southwark (central London). My daughter lives in London, so it gives me an excuse to see her and visit the city.
The welcome from the staff and the nuns is wonderful: it feels like a family. It's big enough to have lots of interesting lecturers and connections, but small enough that everyone knows everyone.
My very wise daughter said, "You are about to embark on something challenging and possibly uncomfortable. You need to be somewhere where you feel comfortable and safe." She was absolutely right. I feel nurtured and cared for in a family environment but also poked and prodded – challenged. It's the right place for me.
How are you finding the course so far?
It's making my foundations deeper and broader, as though, instead of walking on a stiletto shoe, I'm developing a snow shoe. I know I feel more confident, and my faith is deeper and stronger, despite, or perhaps because of, the challenges that are inevitable when studying theology.
There is a wide variety of people here – different ages, social backgrounds, ethnicity, points of view and churchmanship are represented. I've learned a lot about other people and myself.
What would you like to do after you finish your studies?
I feel called towards to being a vicar, possibly in a rural community.
I imagined after becoming ordained, people would flock to choose rural communities, but that's not the case. There are a number of problems in rural communities that people aren't aware of, and often you're responsible for more churches than just one. In a large city ,you can be anonymous, but in the countryside, everybody knows you, so you're never off duty.
My parish placement is going to be in a different church; it's local but very different from my own experience. At the moment, I don't really know where I'll go next. I know that God knows, but I don't have enough experience yet.
That's what college is for, different experiences that shape you into the leader God wants you to be.