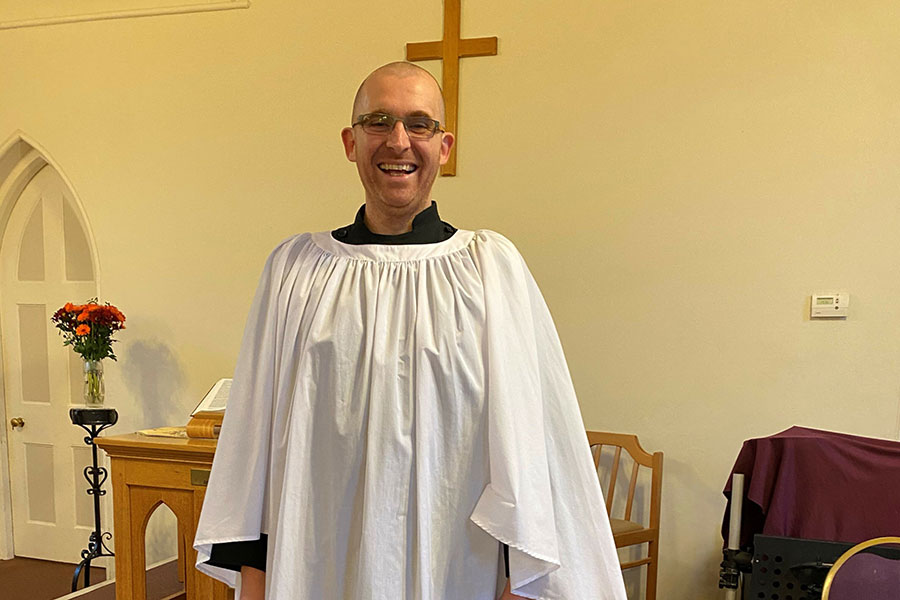 Mark is an ordinand from the Chelmsford Diocese who is studying part-time. He has benefitted from the friendly and supportive environment at the college as well as the challenging yet rewarding courses.
Why did you decide to get involved with ministry?
I have a Pentecostal background, and I've always been passionate about sharing my faith and going to church. I was part of the youth leadership team for my church for many years.
I felt called to ministry from a young age, but I didn't know in what capacity until a few years ago. I was at a cathedral while a friend was being made a deacon. As the Bishop of Chelmsford was handing him the Bible, I had a vision of a bishop handing me a Bible at my own ordination.
I told my wife, who said, "I hope you're joking!"
How did your journey to ministry and ordination training begin?
My wife and I have three children, and I have been running a website business for 18 years. The implications of this pathway have had a huge impact on our family, but we are excited for the challenges and opportunities to come.
You have to remember that, when you're being called, the whole family is being called. My wife and I had many discussions about how it would impact the family. During the process, we really appreciated the support of our Diocesan Director of Ordinands, who enabled us to ask the right questions and facilitated the beginnings of our journey.
Why St Augustine's College of Theology?
I first heard about St. Augustine's from the Chelmsford diocese website. When I contacted the college, they were incredibly quick to respond and were genuinely enthusiastic to show me around and give meaningful answers to my questions.
St Augustine's felt very warm and welcoming. I explored a couple of colleges and felt that St Augustine's size enabled more personal interaction between students and staff, which suited me.
All the students support and accept one another and the tutors help to nurture your growth. It feels as though everyone around you is rooting for you.
How did the flexibility to study part-time impact your experience as a student?
The part-time study pattern also worked well for me. I prefer the option to have a full day each week, rather than trying to learn in the evenings after a full day's work.
West Malling is also surprisingly easy to get to from the Chelmsford area, so it works really well. Because of my family and business commitments, I aim to continue to work part-time and enter ordained ministry as a self-supporting minister in my local community.
How have you found the learning at St Augustine's?
I never really connected with the more traditional Anglican services before, so it's been really beneficial to me to understand how the liturgy supports faith.
Some of my academic studies have been very challenging. Biblical studies, for example, blew apart my understanding of the Bible, but the course and the tutors gave me space to reform my view.
Studying Church History has also been formative: developing my understanding of how and why the Church is what it is today has been fascinating.
How has St Augustine's facilitated your formation?
The support you get here is an essential part of your formation, I think. There have been some challenging personal times during my studies, and the support I've had here has helped me to grow through those experiences.
When I first thought about going to college, I thought it was about education, and didn't understand what was meant by formation. Now I understand that they're not trying to shape you – they are guiding you to shape yourself and allow the Holy Spirit to shape you from within.
All this has helped me to strengthen and deepen my faith and my relationship with God.