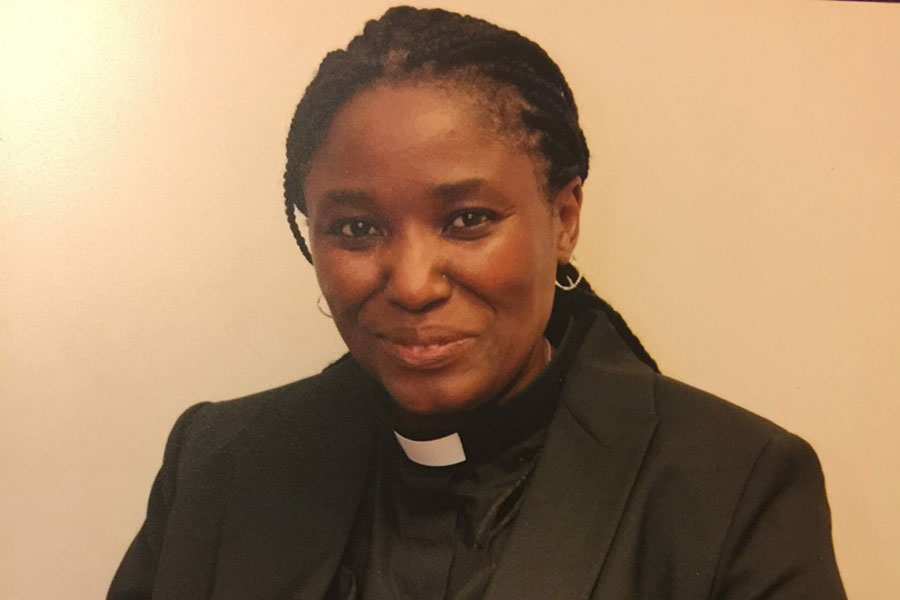 Folake is a former student at St Augustine's who was ordained in 2018. She found the idea of studying as a mature student intimidating, but during her time at St Augustine's she thrived academically and felt like she'd made a new family in the process.
How did you first decide to pursue ministry work?
During a festival in 2013, the Rochester Cathedral opened various prayer stations to encourage visitors to get involved with prayer. One station had a table with 'Jesus cards', which are cards with Bible verses printed onto the back of them.
Mine read: "In the same way, let your light shine before others, that they may see your good deeds and glorify your Father in heaven." (Matthew 5:16). The reverend said to me, "I have goose-bumps right now. I think you are being called to priesthood."
It was in this moment that I felt God had revealed my purpose.
How did you know training for ordination was the right choice for you?
I had been involved in prayer ministry since I was 15 years old, which had always felt important.
At Rochester Cathedral, I began leading a prayer and healing ministry. It was like a dream come true being involved in this practice, but I eventually felt a nagging feeling that I needed to serve in some further way.
I had considered becoming a reader but the more I thought about it, the more I realised I was being called to priesthood. Shortly afterwards I was recommended for training following the Bishop's Advisory Panel (BAP).
Did you have any reservations when you started at St Augustine's?
I wasn't quite sure I could do it initially, and I was intimidated by the amount of academic work. It had been 30 years since I had written a formal essay, so I had my doubts about my ability to engage in this kind of study.
On the first night, I was so troubled that I asked God, "Father, is this really what you are calling me to?" Whilst praying, I was suddenly urged to open my book of divine encouragement, I Am With You, to a page that read "do not be afraid of what you are becoming. Watch and see what I am trying to show you."
From then on, I stopped struggling with the idea of becoming a priest.
What did you enjoy most about studying at St Augustine's?
I really liked the spirit of oneness and unity that came from the staff and students at St Augustine's.
I had been worried about not fitting in, but there were so many types of students; I was reassured by the many other mature students that were there. It was very special getting to know the other students, and we even got to meet the London students.
I also liked the fact that we were able to pray in the chapel before and after lectures, and that we would round off our classes with prayer. It appealed to my background as a Christian.
When the college moved to West Malling it was wonderful because it's beautiful there with a very serene atmosphere.
What unexpected skills or wisdom did you gain from your time at St Augustine's?
We were taught in a style which combined practical and theoretical approaches. I loved this because I learned things I had never heard of before and gained new perspectives.
It has also directly improved my ability to write sermons because I was taught how to clearly convey ideas that flow all the way through.
How did St Augustine's prepare you for curacy?
I did my curacy at St Peter's with St Margaret's Church, in the Parish of Rochester, where my training continues.
One of the things I found useful coming from St. Augustine's was the use of the daily office or daily prayer book for morning prayer, which we do regularly.
St Augustine's prepared me for using the daily prayer book, as I hadn't used it in my previous church background. This was one of the many different types of church traditions that St Augustine's taught me about.
What was your experience of curacy?
The sense of family that I felt at St Augustine's went with me to the parish. Through the college I was able to do a placement at the church before I became curate.
It's been a lovely four years. I found the parish so friendly and supportive, and much of this is also credit to Rev Dr Joel Love, who is a great leader and has really supported me. He would throw me in at the deep end and jump right in with me.
It's always a joy to be there for the people of the parish.
What are your future plans?
Truly, I have been shown a lot since I started this journey. My curacy has ended and I am looking for my own parish now. For now, I need, once again, to trust, wait and see what I will be shown by the one who has called me.