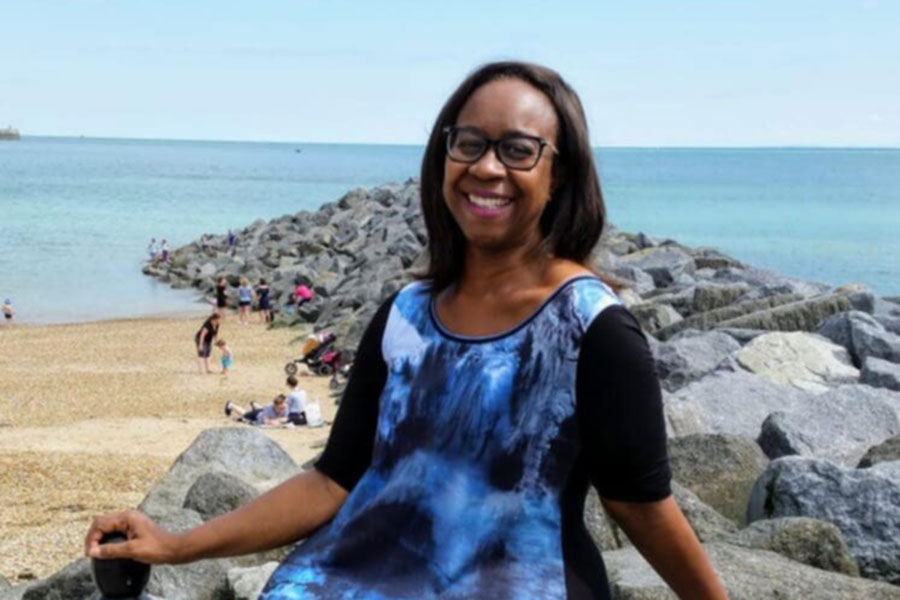 Beverley is an ordinand studying full-time at our West Malling campus. Beverley plans to use the experiences and skills gained from her time at St Augustine's to help young people through ordination and beyond.
What did you do before you began ordination training?
My primary training was in nursing, though I'd originally wanted to be a teacher. After qualifying, I did a couple of teaching certificates. I had a passion for training, and one day I realised that God had given me what I wanted, and I was teaching after all.
During maternity leave following the birth of my third daughter, I decided to set up my own consultancy business helping to shape organisational development and support personal development.
I also set up a not-for-profit company to help vulnerable adults and young people into employment and set them on a new path.
Why did you choose to decide to study at St Augustine's?
About eight years ago, I felt called to an Anglican church. I've always liked to give back, whether through my work or ministry, and my vicar there thought I should explore my calling within the Anglican setting.
There were many places that I could have gone to but my bishop suggested St Augustine's. After I was accepted for ordination training, I sold my business, so I had some spare time before my training began.
I decided to do a module of academic study at St Augustine's through their Taster Module programme, as it had been some time since I last studied. I contacted them and the warm welcome I received was amazing. I loved the place; it just felt right.
What is studying at St Augustine's like?
I'm in my second and final year now, and I love it here.
St Augustine's perfectly combines academic rigour, humanity, and support for the individual. The moment I walk onto the campus, it's like a little piece of heaven. The beauty and the peaceful ambiance are steeped in prayer. Every moment I'm there, I am so grateful to God.
The staff are always on hand for help, you can go to any one of them with an issue. They will consistently go the extra mile to offer personalised support; it's a family here.
How has your time at St Augustine's affected and changed you?
Studying here has produced quite an unexpected outcome.
Early in my course, one of my tutors picked up that I was dyslexic when reviewing my written work. This was then confirmed through testing. I'd gone through my whole life without knowing. It was quite a shock but also felt as though I'd been given a gift from God.
The discovery gave me tremendous insight into some of my past struggles and challenges. Looking back, I realised that when it came to writing essays, reports, or large theoretical pieces, I would naturally withdraw from the task. Despite my many achievements, there had always been hidden pockets of insecurity and feelings of being "less than" when I compared myself with others.
Understanding this has shone a light into so many areas of my life and enabled me to reflect and grow. Through studying at St Augustine's, I've learned so much that has challenged me. In expanding my knowledge, I've grown, matured and embraced challenges with joy.
How else has St Augustine's prepared you for ministry?
The support I've had at St Augustine's has enabled me to move forward with immense strength, and I have so much to be grateful to them for.
I recognise that I've grown through the challenges in my life: they've shaped me and helped me to work with people from a deeper level of empathy, care and compassion, which is vital for ministry.
What are you planning on doing with the knowledge and wisdom you've gained?
In my two-year curacy and beyond, I hope to be able to use my skills in leadership and organisational development to support people – perhaps younger people in ordination training.