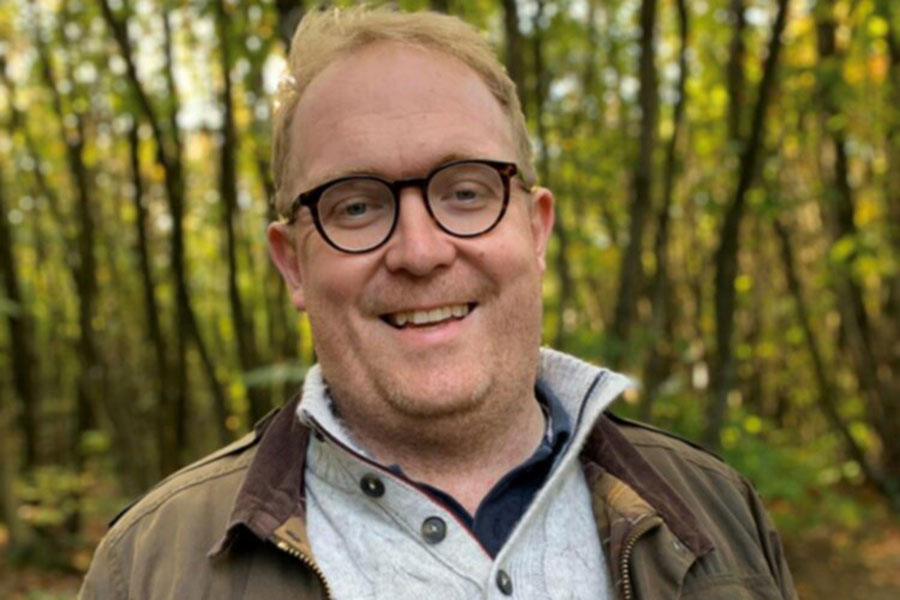 Ollie Phipps is a first-year ordinand based in Kent and studying part-time at St Augustine's. Using his decades of experience in nursing, Ollie is planning on pursuing chaplaincy ministry in a hospital or hospice.
What made you first realise that ministry could be in your future?
I was born into a Christian household and have been a lifelong churchgoer, becoming part of the fabric of the Church – leading youth and other groups. But when I trained to become a nurse over 20 years ago, I began to question my faith due to all the death and illness I witnessed: I wondered where God was in all this suffering.
In 2008, I was part of an Alpha course for men, and one of the guys on the course became a good friend. One day at work, I was caring for a man, who was dying, and talking to his wife. Just after the man died, my friend from Alpha appeared outside my office. It turned out that the couple I'd been caring for were his parents.
The next day was Holy Spirit Day at Alpha, and my friend asked me if I'd ever considered going into ministry, and it began to become clear that my vocation lay somewhere other than in nursing.
How did you decide to pursue ordination training?
Having spoken to my vicar, I started to explore ordination, but at that point my wife wanted to leave her law career and train as a nurse. So, I carried on nursing and studied part-time.
We then moved to Kent, where I work partly in the NHS and partly as an academic at Canterbury Christ Church University.
When my mother-in-law died, I spent time praying, and an old vicar friend came back into our life – he ended up conducting the funeral. He asked me, "What are you doing about your vicar stuff?" And off it went again!
Why did you choose to study at St Augustine's?
When I began to explore ordination, I looked up local theology colleges and was surprised to discover I lived just around the corner from St Augustine's.
Although I looked at others, St Augustine's came highly recommended by other students I knew. And when I visited Malling Abbey and spent time there, I noticed that most of the students were like me – mature, with life experience. I knew I'd fit in there and that the part-time study pattern would fit with my NHS and academic work.
It's a lovely, warm place, and being just around the corner from home, was a no-brainer.
What was your experience of learning and study at St Augustine's?
The course modules are fantastic. With things like Bible Studies and Church History, for example. I thought I knew a lot, but studying has helped me understand why we do things the way we do them in the Church of England. Every residential is based on a different liturgical theme so you gain a variety of experience.
The ability to meet up and have the residential weekends has been just as important as classroom time. I would describe it as a blended learning approach, which means that you have some of the responsibility for learning independently. It's not just about turning up and listening.
The preparation you do is as important as going to lectures, and they guide you in how to get the most out of personal study.
How did the student community impact your formation experience?
Within the sessions, you get to meet a variety of people, not just ordinands but also lay ministers and independent students.
That's one of the important things about formation: meeting people, not just academic study. It's not the college that forms you, but they guide you as you are formed by God and the Holy Spirit.
I'll probably be going down the self-supporting ministry route to begin with, but I think ultimately my calling is towards stipendiary ministry with a chaplaincy element – in a hospital or hospice – where my experience can also be of value. But I'm waiting for God to guide me.