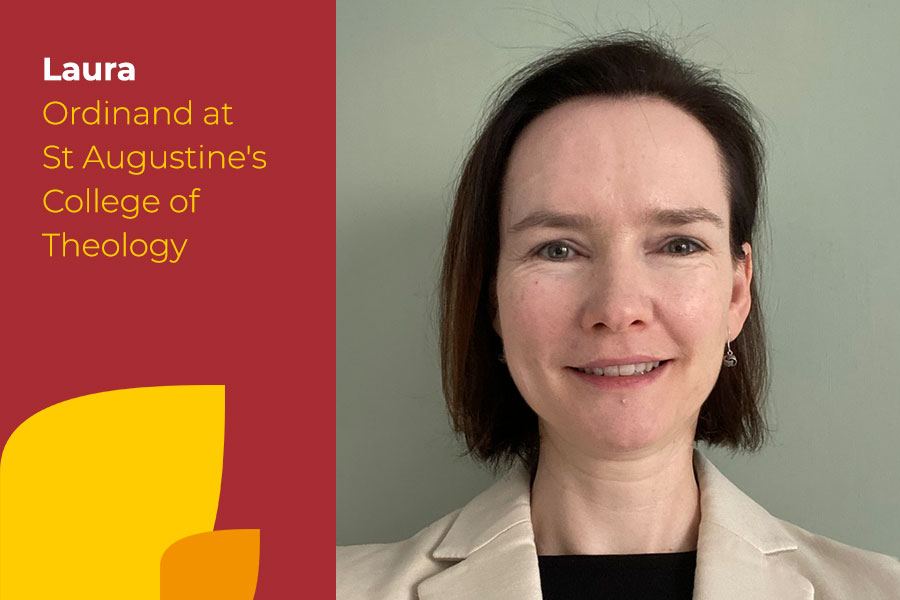 While Laura was familiar with academia, she was unsure whether studying theology would work for her – especially considering she works full-time. But thanks to flexible classes, a strong support network, and a passion for learning, Laura was able to find a balance between work and study.
Based on an interview with Laura
When I was younger and completing my first degree, I remember seeing mature students who were studying and working at the same time.
Back then, I wondered how those students managed it. But now, here I am – training for ordination part-time and balancing my studies with working full-time!
Ordinand Laura's call to ministry and ordination training
I'm currently in my second year of ordination training at St Augustine's College of Theology, studying part-time over three years.
Because I work full-time, I typically take evening classes at the Southwark campus in London. This term, I have chosen to study via evening online Zoom classes to save time and minimise my commute.
When it comes to following a call to ministry; it's different for different people. I began to realise that I might be being called a few years ago. I began my journey of discernment and started exploring what ministry might be like and whether it was right for me.
Once I decided to take the next step forward, I took part in the ordination selection process and was accepted. I elected to undergo my training at St Augustine's, via a part-time, three-year degree programme.
Studying a taster module as part of discernment
Before I began my training, I had the chance to give theological study a try through one of the College's taster modules.
It had been a while since I'd studied at university level, so as part of my selection process I enrolled in the Introduction to Biblical Studies taster module.
Being back in formal education after so many years was a bit of a shock to the system, but I enjoyed it! I remember thinking, "I could probably do more of this".
You learn a lot by studying a taster module. It helped me realise that studying theology as an ordinand would be hard work, but that it would also be very rewarding.
Logging onto class and training for ordination through virtual learning
When I started my degree programme in September 2021, the college was still teaching the majority of classes virtually because of concerns around Covid-19.
During my first year, I studied exclusively via evening Zoom classes. Virtual learning worked well for me; it allowed me to organise and manage my time effectively.
As someone who's working at the same time as studying, I can attest that time is of the essence. If you're working from home or you've just got in from work, being able to hop on to an evening Zoom class is extremely convenient.
"You're not just learning from the lecturers; you're learning from one another as well – the discussions we have in class open up your mind."
Laura,
Ordinand at St Augustine's College of Theology
While virtual learning isn't everyone's cup of tea, I don't feel I'm missing out on anything when I take part in virtual evening classes. In fact, I find that we get some really good discussion on Zoom. We often move into smaller groups to talk in breakout rooms, which I think works quite well.
It's a learning environment where you're able to share with one another, and you can learn a lot from that. I've found that the college is very good at facilitating connection and open discussion during online classes.
Forming a rock-solid support system with fellow students
It's been such a blessing to be able to work and study with my fellow students.
When you look across the year groups, we're all different ages and from different Church traditions and backgrounds. We're a diverse group of people in many different ways, which I found really encouraging.
You feel a great sense of support from and for your fellow students. I think that connection is strengthened during placements and residential weekends. Working on the Mission Project, for example, helped us to form a solid support network and connect with one another.
We have such rich discussions together in class, and they often help provide clarity and consolidate what we're reading and learning about. You're not just learning from the lecturers; you're learning from one another as well – it opens up your mind.
In almost in every class or teaching session, I'll learn something new and there'll be a moment that I think, "Oh, I've never thought of it that way!".
"Yes, you really can train for ordination and work at the same time"
Alongside the training and academia, studying theology is a process of formation.
You're always learning more about yourself; often in environments that may be unfamiliar to you. It's a process of learning about yourself in a practical sense, as well as understanding your capacity for academics.
That journey of formation is different for everyone but it's well worth making. There may be people out there who, like me, are working full-time and wondering, "Can you study and work at the same time?".
That was certainly a concern I had. I wasn't sure whether I'd be able to manage. But, with some hard work, it really is possible to work and study – the support you'll receive from the college and your fellow students makes sure of that.
When you're balancing study with work, family or other commitments, a flexible study programme can make all the difference. If you're thinking of studying theology part-time, why not join us for a taster event and find out how we can help you strike a good balance for you?

Our warmest thanks to Laura for sharing her story and being an invaluable member of our student community.