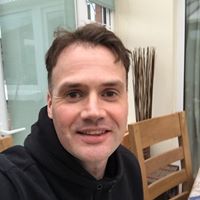 Tim is an ordinand studying full-time at our Southwark campus, in central London. Tim was unsure about whether he might be suited to church leadership but was inspired by the openness and kindness of the college. He is now thoroughly enjoying his studies and looks forward to serving disadvantaged communities in the future.
What made you decide to become a vicar?
I'm originally from Northern Ireland. Most of my jobs since leaving school have been in youth and community work in a church.
I studied community development at university, and after graduating I got a job in youth work in an Anglican church in the Netherlands. At that time, I knew I wanted to keep working for the Church of England but without any sense of calling. Later, I got a similar job in youth work in North London.
I never really thought I was cut from vicar cloth – I suppose I had a stereotypical mind view of who a vicar was. But through conversations I had with a vicar in North London, and seeing the diversity of the people I came across at vocation information evenings, I began to see a different picture of what leadership in the church could look like.
Why St Augustine's College of Theology?
During the discernment process and conversations with the Diocesan Director of Ordinands about a potential pathway for me, I decided I didn't want to do residential training and wanted to stay in North London.
I happened to meet one of the lecturers at St Augustine's at a dinner and got an idea of the open-mindedness and generosity of the college. I went along to the open evening and it ticked all the boxes for me.
The full-time pathway has worked really well for me. I didn't want to remove myself from the day-to-day life in London; it has the balance right for people like me who want to throw themselves into full-time theological study.
The pathway has allowed me to study four days a week with a broad reading of theology which has been really rewarding, especially as I hadn't studied theology before.
What have you found valuable from your experience as a student at St Augustine's?
The size and dynamics of the college work really well. The staff are all very professional, but at the same time there's no feeling of distance – they're all approachable.
I've also found that the amount of time I have with people in class, and the regular residential weekends, allows me to get close to other students as well as maintaining my church community feeling.
There's also a good balance between study and real-life experience within a parish church.
How has St Augustine's facilitated and supported your formation?
Probably the most formational experience for me (my background was quite an evangelical tradition, then liberal) has been to realise all the different traditions that exist in the one church.
Study and critical reflection have helped to bring clarity to many aspects of my faith: what I believe, what's valuable from various traditions, and how that can be applied in the current context.
How have you found your placements?
The placements have been great. Last summer, I had an opportunity to work in a hospital and to shadow chaplains. Seeing the skills they use every day with people who are seriously ill and dying was a humbling experience.
I'll be going to Wakefield Cathedral for my curacy. I'm hugely excited about working in a cathedral as well as getting experience in the community in the North of England.
I'm pretty open-minded about where I work in future, but I know I'd like to work in parish ministry, probably in a parish that serves people from disadvantaged communities.