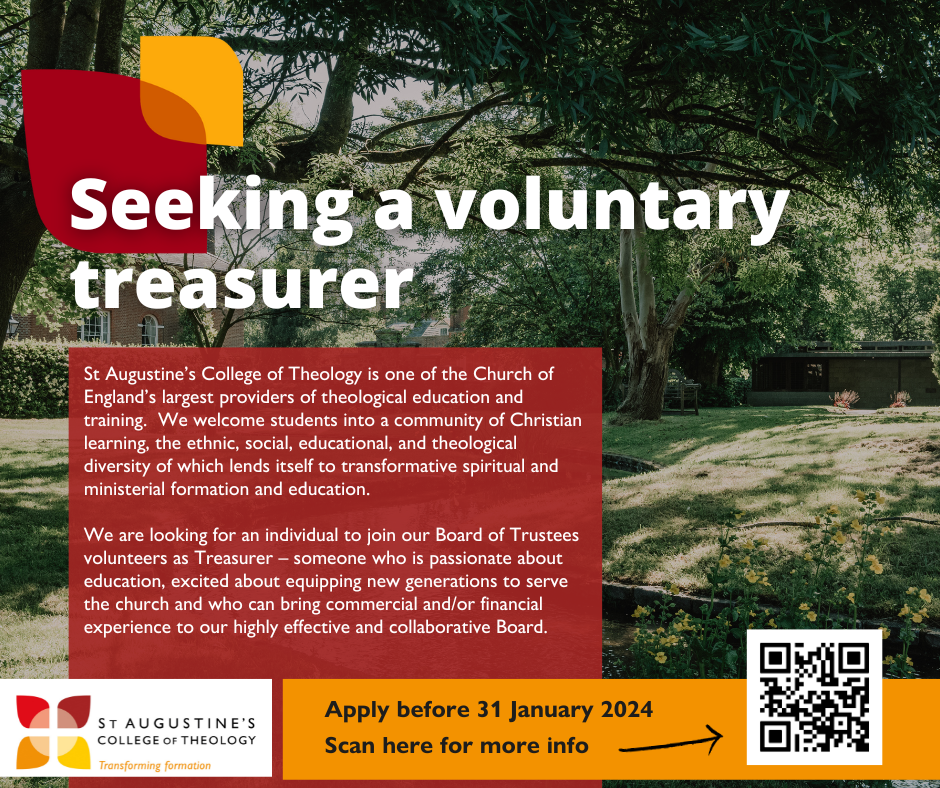 Volunteer Treasurer
St Augustine's College of Theology is one of the Church of England's largest providers of theological education and training.   Serving the South and South East of England we welcome students into a community of Christian learning, the ethnic, social, educational, and theological diversity of which lends itself to transformative spiritual and ministerial formation and education.
In fulfilling our calling as a learning community, we form and equip lay disciples and licensed lay and ordained ministers as faithful, missional, collaborative, theologically informed, culturally aware, and resourceful disciples and leaders for the service of Christ within complex and changing social contexts.
We are looking for an individual to join our Board of Trustees volunteers as Treasurer – someone who is passionate about education, excited about equipping new generations to serve the church and who can bring commercial and/or financial experience to our highly effective and collaborative Board.
The Treasurer attends four regular Trustee meetings each year and would otherwise be expected to spend time during term supporting the Staff and Trustee team on finance and investment related matters.
For an informal conversation with our Treasurer, Rev Jonathan Croucher, please contact Jonathan directly by email on revjec@hotmail.co.uk.
Applications for this role should be sent by email to Rebecca Young, our Head of Operations, at r.young@staugustinescollege.ac.uk with a brief CV summarising relevant experience and a covering letter setting out your interest in the role.
The closing date for applications is 5pm on 31 January 2024.