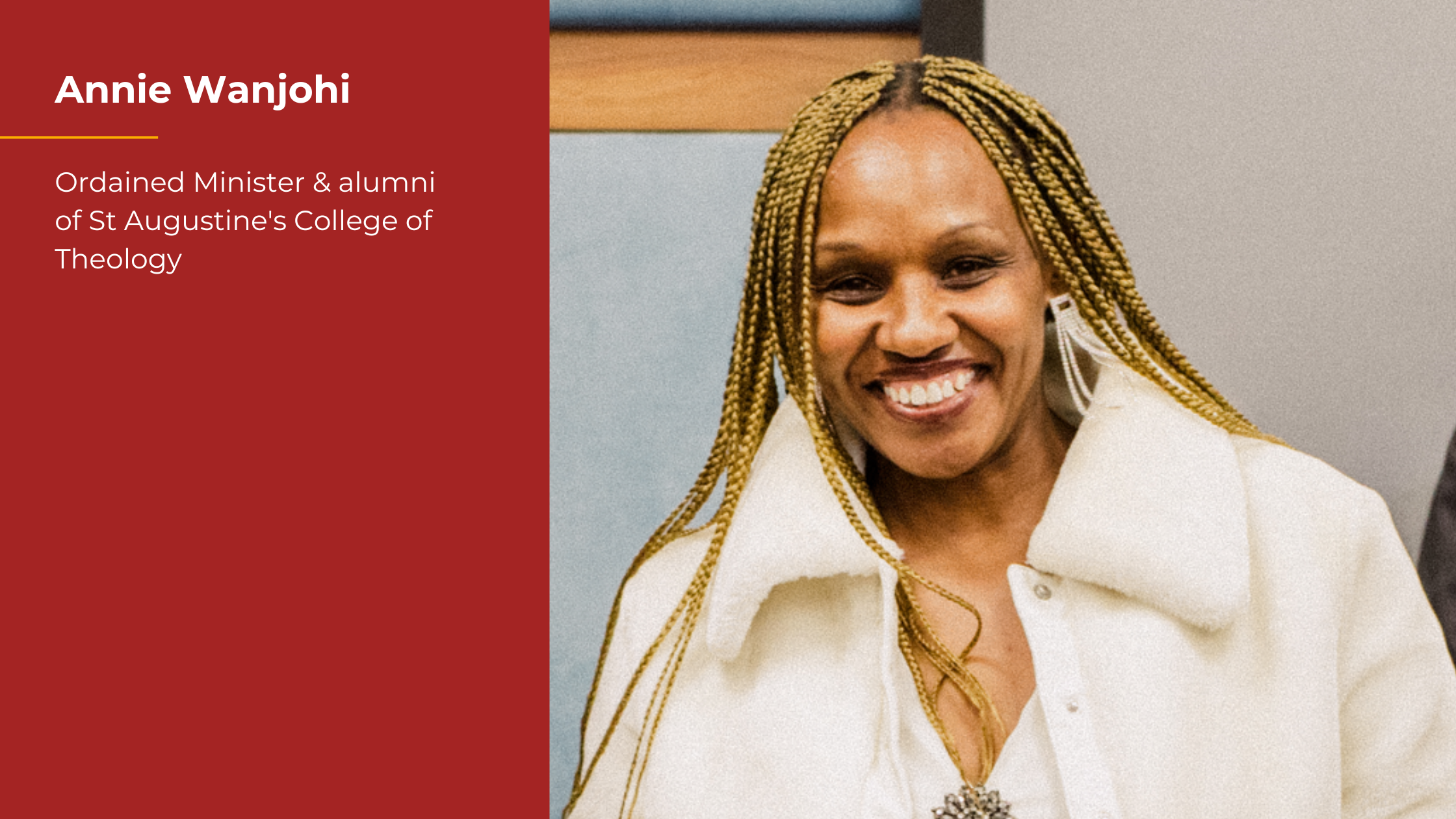 When Ordinand Annie Wanjohi began to feel a call to ministry, she felt conflicted. Despite her academic experience, Annie dreaded the idea of studying theology – and was she ready to change everything about her life to serve God in this new, challenging way?
Based on an interview with Annie Wanjohi
Studying at St Augustine's College of Theology as an ordinand isn't my first experience of university-level learning – in fact, it's my fourth!
I first went to university to study Education Psychology when I was living in Kenya, where I later taught students in Nairobi. When I came to live in the UK, I studied at University College Worcester for my nursing diploma. In 2015, I attended the University of Greenwich to complete a return to practice degree as a nurse.
Despite my academic experience, I was unsure about going back to university. I knew that studying a subject like theology would be a massive challenge for me, and there was a lot of anxiety in me about it.
Thankfully, I found a place to study theology and train for ordination that made everything possible. While it certainly wasn't easy, St Augustine's always gave me the help I needed to achieve my goals.
"I didn't want to go back to studying"
Before I began ordination training, I was a volunteer at my Church for about 15 years. I had a lot of responsibilities but I loved being able to work with the children and teaching Bible study.
When my bishop began urging me to consider ordained ministry, I was initially reluctant. I didn't want to go back into studying again. I found academic learning quite difficult and I had my children to think about.
Eventually, the call of God prevailed. And as I suspected, studying theology was difficult for me. But one thing that was really, really helpful was how St. Augustine's is set up to help its students.
That's been my defining experience with the college, at every turn. If you have a problem, they find a way to help.
Training for ordination as a member of a Sending Church
I remember my first visit to St. Augustine's, during a taster session. I met one of the tutors, Guido de Graaff and we sat down together to have a chat about my personal circumstances what might work for me. I didn't know it at the time but I think I needed a Guido in my life!
I explained that I was coming from a Sending Church, where you're sent out to another church to undergo your training. When I had spoken to other colleges and explained my situation, I was told "not to worry" about moving to another church to do my training.
Brushing aside the rules of my diocese at this early stage felt like a bit of a red flag for me. Plus, my church didn't even have a priest who I could train alongside so when these other colleges told me that wouldn't be possible, it didn't feel like a good start.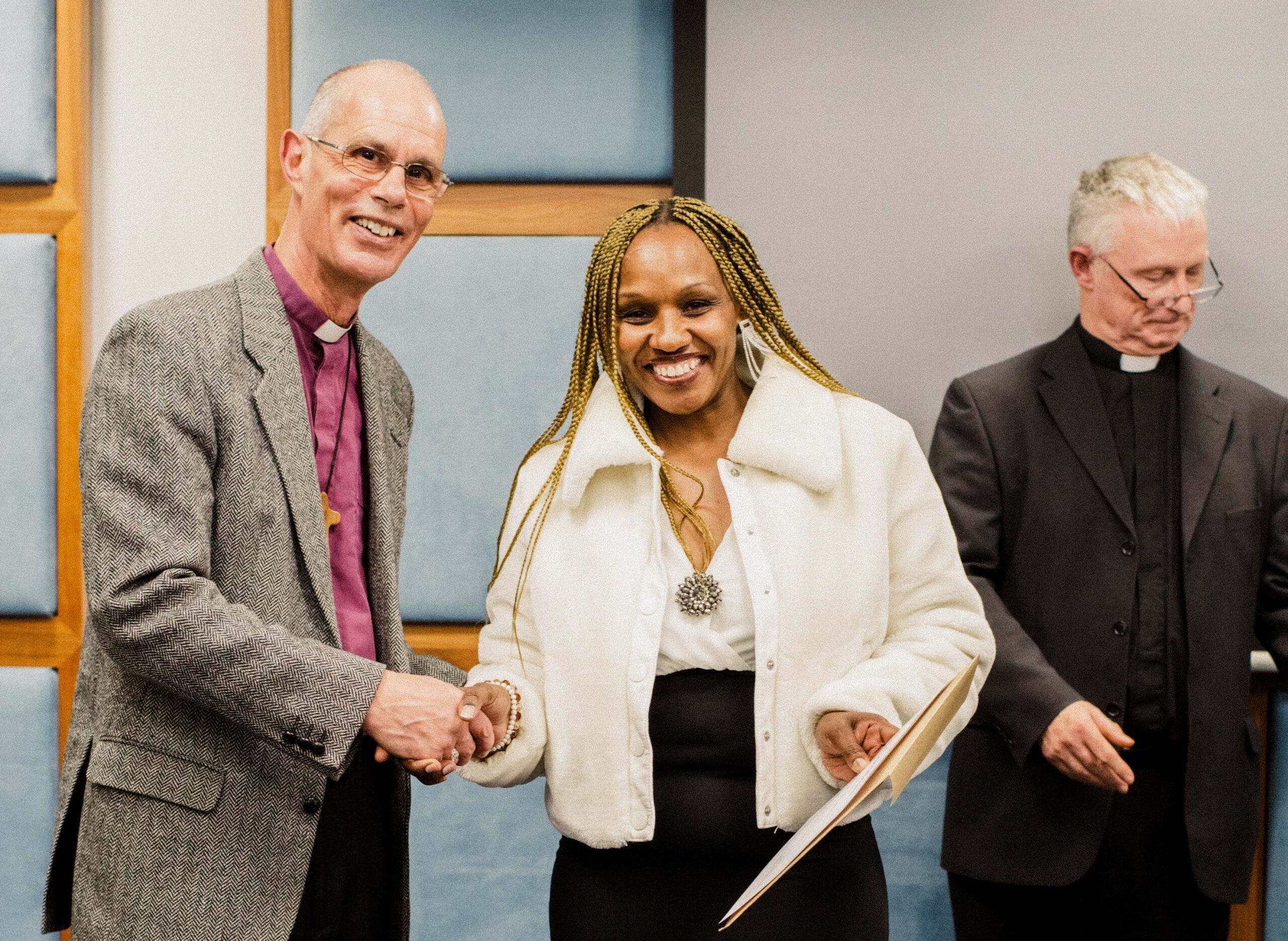 Mixed mode ordination training at a non-residential college
My experience with St Augustine's was totally different. After I explained my situation to Guido, I remember him saying "I think this mixed mode approach might work for you".
Guido outlined how I could train in a different church from my own, alongside undergoing my studies. He explained that every two weeks, I could come to St. Augustine's at their West Malling campus for a teaching day, or I could attend evening classes at their Trinity House campus in London, too.
"From the word go, I just knew that St Augustine's would work for me"
Not only that, because St Augustine's is a non-residential college, I wouldn't need to worry about disrupting my children's schooling or being apart from them. Because Guido took the time to understood where I was coming from, he could come up with a practical solution – something that was tailor made for me.
That was all I needed, because it meant that studying was possible. From the word go, I just knew that St Augustine's would work for me.
Applying for ordination training at St Augustine's
Applying to St Augustine's was straightforward and easy, not least because Head of Operations Becky Young was there to help throughout.
Becky sorted out most of my application with me over the phone. After about ten minutes of me reeling off my relevant information, she said, "Right, that's done!". I remember thinking, "Really? That fast?".
Every time I wrote to Becky, she would answer very quickly. Everything felt seamless, and I know I'm not the only ordinand who appreciated that level of support, especially during the time you're applying.
Although it's an exciting time, you're also facing so many anxieties. You might be thinking about resigning from work, or wondering how you're going to balance childcare with study. There's this sense of everything being about to change.
And then someone like Becky comes in and helps me through the admin bit I'd been dreading, and it's all over in less than 15 minutes!
Support with theology study skills from Suzy Gregory
Studying theology is intense, and rightly so, because you're shaping your mind as you learn.
I'd never studied theology before, I'd only read the Bible. Some of what we studied was fairly difficult theology, but we were given help. I was finding the essay-writing particularly tough, which led me to receiving support in the shape of Suzy Gregory, tutor for writing, study skills and singing.
Suzy would look at our essays and offer help with grammar and structure. I worked with her on each one and with time, my essays got better. Whenever I felt like I was falling short, I knew I had someone to go to.
"I started actually enjoying theology, and the subject as a whole became interesting to me."
In some cases, all I needed was some help understanding what exactly the essay question was asking me. Suzy had a way of translating the question into 'my language'; she'd suggest a different way of framing the question and suddenly, I'd get it. We had that kind of relationship where she just got me.
Not only did my essays improve with Suzy's help, I noticed I started to enjoy learning. I started actually enjoying theology, and the subject as a whole became interesting to me.
I always took the work seriously and because I had help, it worked out. Praise God I didn't have to repeat an essay – I passed all of them! I may not be an A student, but for me, being able to pass was the greatest thing.
Making friends at theology college
My overall impression of St Augustine's is that it's a good place. You've got people from all walks of life, backgrounds and age ranges all studying and worshipping together.
And it's fun! When you're not studying in the classrooms, people just sit together and you glean so much from the people around you. You make so many friends, and I think it's because people are so different.
It's just a great place to be – I can't speak well enough of St. Augustine's.
St Augustine's College of Theology offers all of our ordinands and students support with study skills. To meet people like Suzy and explore where Annie studied during her time with us, sign up for a taster event and visit us at either of our campuses or online.
Our warmest thanks to Annie for sharing her story and being an invaluable member of our student community.